When considering ways to enhance the look of your home, consider remodeling or just renovating your kitchen and bathroom. But why not think differently and focus on lawn landscaping?
Lawn landscaping can hugely impact the overall look and feel of your home. A beautiful and well-maintained lawn can make your entire landscape look good. In comparison, a poorly maintained yard can ruin your curb appeal. The choice of your lawn landscaping style allows your front yard to become a place where you can relax and unwind from the rest of the world.
When choosing a lawn landscaping style, remember your ultimate goals, such as making your yard child-friendly, entertaining, sustainable, or relaxing. 
Make sure you are aware of any zoning laws in your area. Not every style of lawn landscaping is suitable for all kinds of weather. However, you can turn your yard into an outdoor masterpiece with the following landscaping styles.
Here are Nine Types of Lawn Landscaping Styles for Your Yard
Tropical Lawn Landscaping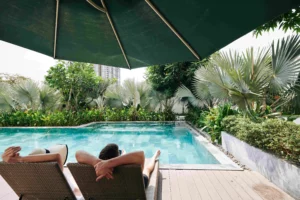 If you love tropical vibes, you don't have to fly to a remote island to experience them. With the right lawn landscaping project, you can recreate a rich, tropical landscape with lush greenery and bold colors in your backyard. 
You are good to go if your climate supports your tropical landscape plan. Palm trees, hibiscus flowers, birds-of-paradise, bougainvillea, jasmine, and orchids are a few examples that represent the perfect tropical getaway.
You can enhance the tropical feel of your lawn by adding the following:
a swimming pool or hot tub 

a hammock swaying in the breeze, 

tiki statues and torches, whereas tiki bars are also an option depending on your preference

a fire pit, 

bamboo accents, 

brightly colored outdoor furniture

Woodland Lawn Landscaping
Consider a woodland lawn landscaping style if your ideal escape room is a cozy cabin in the woods. This landscape design is perfect if you are searching for a low-maintenance option.
Woodland landscaping includes forest trees, shrubs, and florals that can grow independently with little human help.
Hardwood traditional trees like maple, oak, walnut, hickory, and cherry take time to grow and are a long-term investment. These trees go through dormancy in the winter. Softwoods, including Douglas fir, cedar, juniper, pine, spruce, redwood, and yew, grow more quickly and retain their growth even during the winter.
In addition, wooden benches, stone pathways, and birdhouses help create a magical woodland feel in your yard.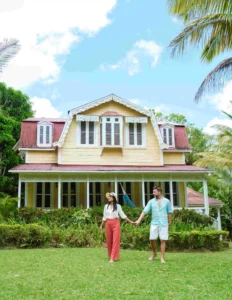 The prairie is one of the best options, with tall grasses and herbaceous flowering plants for lawn landscaping if towering trees aren't your style. Southwest U.S. native switchgrass is brown, green, and slightly red or purple. It can adapt to various climates, from cold to warm, and is drought-resistant. Prairie landscaping is less expensive than trees and is also a good choice if you live in an area with limited rainfall. 
Desert lawn landscaping is a low-maintenance style that demands little maintenance and water. The traditional must-have dessert additions are succulents, cactus, aloe, and yucca. 
Sometimes homeowners feel this landscaping style to be a little monotonous. To break the monotony, you can add colors to your lawn with desert-resilient plants like autumn sage, begonia, and yellow columbine. Certain succulents can also add beautiful colors to your yard.
Adding southwest-style designs and light-colored furniture will further enhance the monochromatic look of your lawn. An outdoor kitchen and fire pit will give a hike to your dramatic desert-style yard. Remember that gazebos, umbrellas, or desert-friendly trees are a must to get an authentic vibe.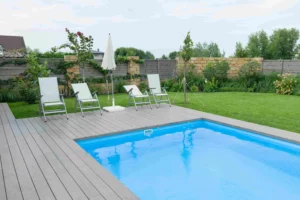 English garden, commonly known as an English cottage or countryside, is a popular landscaping type of garden that evolved in 18th-century England. The style consisted of sculpture, rectilinear patterns, and the unnatural shaping of trees.
Apart from trees, shrubbery, and flowers, a water body is a traditional English garden feature. A lake, pond, or reflecting pool, artificial or natural, is a must-have feature for your English garden landscape design.
A bench, a bridge, and a birdbath are classic complementing elements, along with a cobblestone path and sculptures.
Japanese Lawn Landscaping
The Japanese-style landscape is the best choice if you are spiritual. The beautiful space design of a Japanese garden aims at peaceful contemplation. 
This landscape style has four essential elements: water, rocks, plants, and ornaments. When combining these features, it is vital to keep the following design principles in mind:
asymmetry, 

enclosure, 

borrowed scenery, 

balance, 

symbolism.
Waterfalls, Koi ponds, and stone basins are classic water features for a Japanese garden. Incorporating a bamboo bridge in the lawn landscaping design is also common.   
You don't need hundred of acres to recreate a Tuscan landscape design for your lawn. With this landscaping style, you can imitate Italy's famous gardens for its verdant vineyards, rolling hills, and fragrant olive trees. 
You can achieve a Tuscan look and feel even without these exact elements. Potted herbs and citrus plants can help your garden look and smell like a Tuscan garden landscape. 
To sit and observe your masterpiece, you can have a perfect structure of an arbor or pergola.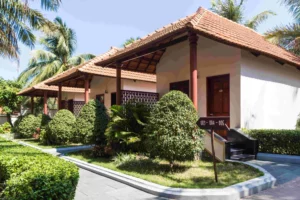 The Italian Renaissance style initially inspired the French garden style, but they added elements of their own. The Gardens of Versailles are the most prominent example of this landscaping style, covering nearly 2,000 acres. Thankfully, you can replicate a French-style landscape on a much smaller scale.
Planting trees or shrubs in a straight line leading to your home is one way to draw the eyes back to the house. Columns, birdbaths, trellises, fountains, and cast iron furniture are a few elements of French design. Remember, with this style keeping things symmetrical is essential.
Spanish-style landscaping is widespread in similarly hot and dry climates. This type of landscape is influenced by Islamic, Persian, and Moorish gardens but with flair. A Spanish lawn is typically drought tolerant, meaning grass is not a primary or necessary element.
The most structural components of Spanish landscape design include ceramic objects like benches, walls, reflecting pools, decorative touches, walkways, and fountains. 
Regarding fountains, the Spanish style is about multiple small centerpieces rather than one large centerpiece. Bright blue glazed accent decor, terracotta pots, and urns add an authentic touch to the Spanish lawn landscaping style.
Discover the Perfect Lawn Landscaping Style with ProGreen Lawn Services.
Regardless of which lawn landscaping style spoke to you, you need to consider the one that best suits your front yard and surroundings. Make sure to study factors like weather, climate, maintenance level, and personal preferences before settling on the final style.
ProGreen Lawn Services begins with a team of experienced professionals who work on the tiniest of jobs, like tearing out a few dead shrubs, to vast projects, like completely renovating an existing home's landscaping.
We ensure our design team can personalize your yard by transforming your vision into reality while keeping things within the budget. Contact us today! to create your lawn landscaping design profile.